I'm writing a Guide to
Nuka World
, piece by piece. Here are the newest/most popular pages:
See a full list of guides on the Nuka World page
. I've written over a dozen in just a week and plan to continue. There is much more to this DLC, it will just take time to write it all. Check back for more. Comment on the appropriate page if you have a tip to share with other readers.
Fallout 4: Settlements Happiness
Getting the Benevolent Leader Achievement in Fallout 4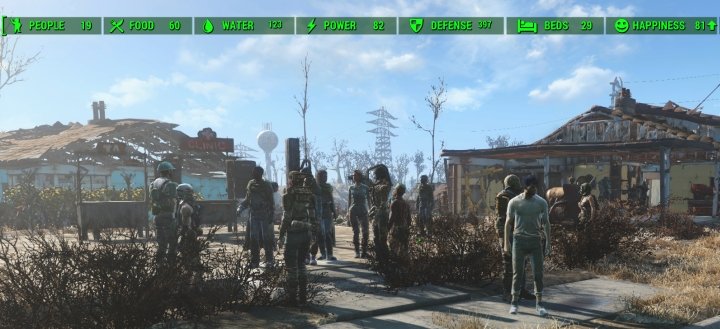 A Settlement's Happiness is a good indicator of how things are going in that town. Many players will only care because it may impact the amount of caps available at their stores and Settler productivity when it comes to scavenging crafting materials, while also earning the Benevolent Leader Achievement. This is perhaps the most annoying achievement to get, because it takes time and you can't be sure you've met the requirements until you actually get it - Happiness creeps up slowly, it's not an instant. Worse, a bug may even cause happiness to fall when you leave. About every 30 minutes in-game happiness ticks up, so you may need to stay once you are SURE you've fulfilled the below requirements. For some, this means having to stick around until the achievement is acquired. I'd like to put a special thanks to a kind redditor who took the time to critique this page for me, helping with some of the happiness-boosting effects.
Happiness

Raising Happiness
Settlers have rather low standards. Some people have suggested things like, "Put a TV in every home" in order to raise happiness. Not necessary. Electricity in general has 0 effect on the town's happiness, other than using it to provide water through purifiers (they'll happily drink it from pumps) or power advanced defensive systems like the Missile Turret, which are space-efficient. I haven't seen decorations or items in town help raise Happiness, either. Maybe some people see this impacting it when they're really just experiencing the slow crawl as happiness trends upward and confusing causation with correlation.
The following things DO absolutely affect happiness:
Adequate Defense - Add up your food, water, and population and double that and you can probably see Happiness rise by reaching that number with turrets. Guard posts are not nearly as efficient later on as well-placed turrets. You're unlikely to get attacked once you hit a high level of defense, anyway. All my low-defense Settlements are the ones that get attacked. Supermutants aren't suicidal, they're just dumb.
A Bed for each Settler - I have found they don't mind large bunkhouses, so making one big structure for them to all sleep in is not a bad idea. Twenty mattressses on the floor do not really take up that much room.
Abundant Food/Water - I've gone over double what my Settlement needs (40 food and 40 water for the Settlements with 20 people, as much as 60 food) - excess is deposited into your workshop anyway, and various foods are used in the creation of cooking recipes along with meats and Vegetable Starch to make Adhesive.
Local Leader Rank 2 Buildings - you'll need 6,000-12,000+ caps to do this, along with ranks in Cap Collector and Medic. The Local Leader Perk lets ou make the General Store, Clothing Shop, Food and Drink, and Medic shops. Combined these cost 5,800 caps. Having more than one of them is reported to work at the moment. In fact, this may be key for some people, depending where you're making the Benevolent Settlement. Having more than one of the Clinic and Bar are best, because they provide the most happiness. Just be sure to assign Settlers to them. You may even need 2-3 of each unless Bethesda makes this achievement a bit less ridiculous.

Benevolent Leader Requirements
The Trophy states, "Reach Max Happiness in a Large Settlement". Evidently, this requirement is to get the bar to yellow - making it 'large'. You can accomplish this by building walls, boxes, and things like that which do not take rare components until the size hits the yellow mark.
If you can't do it in Sanctuary...
Other things to try: Do this in a place OTHER than Sanctuary. You may find as others have that the story NPCs make it harder to achieve the 100 happiness. This means you can start over at a place like Jamaica Plain or Greentop Nursery, where there are 0 story NPCs. Build only for a few Settlers and stop the recruitment radio beacon after placing a few of each clinic/bar and maybe 1 each of the other stores. Try not to let population go to 20 or else it'll be harder to achieve. Make sure they have 1 food/water per Settler and over twice that in defense as well as a bed for everyone.
Hope this helps. Share your experiences with it at [email protected] if you learn something significant. I'll happily change the page for the benefit of future readers if something is discovered, but I cannot erase my achievement and get it again in order to experiment.
More Fallout 4 Guides
Share Tips and Strategies Below