I'm writing a Guide to
Nuka World
, piece by piece. Here are the newest/most popular pages:
See a full list of guides on the Nuka World page
. I've written over a dozen in just a week and plan to continue. There is much more to this DLC, it will just take time to write it all. Check back for more. Comment on the appropriate page if you have a tip to share with other readers.
Fallout 4: Adhesive
Where to Find Tatos, Mutfruit & Corn to Get Adhesive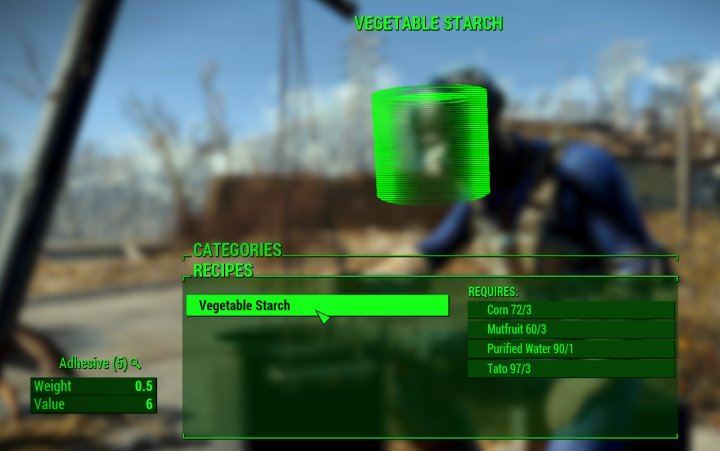 With a bit of farming, you can make an unlimited supply of Adhesive for Armor and Weapon mods. It is required in the majority of crafting you'll do. Thankfully, the developers provided a way that we can get an unlimited supply of adhesive - Vegetable Starch, crafted at any cooking station.
Finding Corn, Tatos, and Mutfruit for Adhesive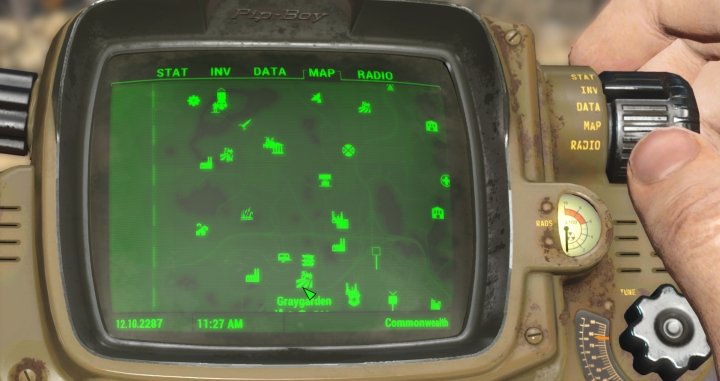 Head to Graygarden, pictured on the map above. This place is full of useful vegetables, but it's noteworthy that it has all three of the plants you need in order to make Vegetable Starch, providing 5 Adhesive for each you craft. It's a bit of a walk, but you'll discover some things along the way and possibly find some wild creatures that will provide leather.
A minor spoiler, Graygarden can join you after you finish a quest to clear out Supermutants and Mirelurks at the nearby water treatment plant. It's a bit challenging early on, so you might want to save this quest for later. Unlike others, it doesn't seem to be timed, so you can pick it up and attempt it whenever you're ready to tangle with stronger foes.
Getting an Unlimited Supply of Adhesive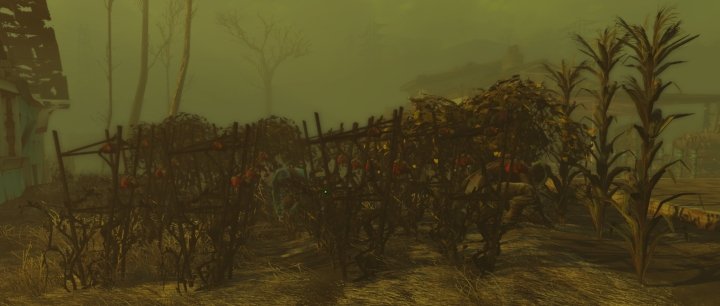 This relies on you growing Sanctuary Hills a bit. You need Settlers dedicated to farming plants in order for them to grow produce. I have a full Guide to Growing Settlements that may help you, but in short - Settlers can work up to 6 units of food. Corn and Tatos are only worth 1/2 each, and Mutfruit is worth 1 food each. While an abundance of food will help your Settlement grow, it's also going to mean there are leftovers. The more of these you plant, the more will be automatically deposited into your workshops at the Settlement. If you make a balanced amount of each type of plant, you are more likely to get a balanced deposit. But, thankfully, you can also harvest these yourself without hurting the Settlement's food supply.
Picking the vegetables and replanting more of them is wise early on, so that you have all the Adhesive you need later in your game. You'll possibly need more Settlers to do that, but raising the defense, providing beds and water, and using the Settlement Recruitment beacon will ensure that more people slowly come to your Settlement.
Getting Purified Water

Thankfully, this doesn't actually require you making a water purifier, though doing so will help immensely because it provides a lot of water and takes just a generator near the shore and a purifier set in the water, with a wire connecting them. Make an excess of water in your Settlement (way more than they need) and this, too, will automatically be deposited into your settlement workshop. You can easily check the stock of these four items by going to the cooking station, or any other crafting station at Sanctuary Hills. Once you've got Local Leader Rank 1 to set up Supply Lines, you will have access to other Settlements' supplies when crafting - even just cooking food, but also when making useful items like Adhesive.
Other Sources of Adhesive
Adhesive can also be found in Duct Tape, Military Grade Duct Tape, and Wonderglue. These items are all light, so picking them up any time you see them is a good idea. See my guide to Where to Find Materials to learn about tagging items for search, so that you'll know items have useful ingredients when you're looting a building or corpse.
More Fallout 4 Guides
Share Tips and Strategies Below